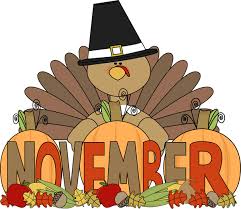 November 2017
Children's Country Club too!

PLEASE READ ALL NEWSLETTERS! WE HAVE MANY IMPORTANT DATES COMING UP AND THIS IS THE WAY WE LET YOU KNOW WHAT IS HAPPENING AT SCHOOL.

Nov 6th – Book Orders Due
Nov 10th – Rescheduled Fire Station Field Trip
November 21st & 22nd - Pow Wow Parties
November 23rd & 24th – School Closed
Dec 25th – Jan 2nd - Winter Break


Our safety reminder for this month is to buckle up! We would like to stress the importance of this safety law. Please buckle up!! This is for your child's safety as well as yours. Also please hold your child's hand in the parking lot.

Thank You to everyone that participated in the Fall Fundraiser! We earned enough to purchase several trikes, a changing table and an awning.

We will be visiting a different country each month. Any items of interest such as books, souvenirs, etc. can be brought to school. Please label any items brought in, we do not want to lose anything. The country we will talk about will be North America. We will learn about the first settlers.

In the spirit of sharing, the children will participate in a POW WOW and Thanksgiving Feast on Tuesday November 21st and Wednesday November 22nd. Children's Country Club Too will be closed on Thursday November 23rd and Friday 24th for the Thanksgiving Holiday.

Full tuition is due for the week of Thanksgiving as stated in our policy. Children who attend both Thursday and Friday will only be required to pay for one of those days. Please refer to the four-day rate that week.

The weather is turning colder. Please dress your child for the weather so they can enjoy the outdoor play yard. Put names on all coats!!! Also send hats with names. The hats stay on better and are more comfortable than an attached hood.

The concepts of letters Ll, Ii, and Tt will be introduced. Many activities will assist in exploring these letters. All the children will be studying North America, Pilgrims and Indians. The children will be introduced to the color Brown and the shape Triangle. Thanksgiving and fall projects are planned as well as talking about Pilgrims and Indians. Numbers – We will be working on the number 3 and reviewing 1 and 2. We will continue to discuss fall.


FLU NEWS – Please remember to wash hands when entering school to prevent the spreading of germs!!!

* Reminder on special days that your child(ren) do not attend you can always switch days for them to attend.


NEED A BABYSITTER? – Ask one of our teachers. They are CPR qualified, fingerprinted and background checked.